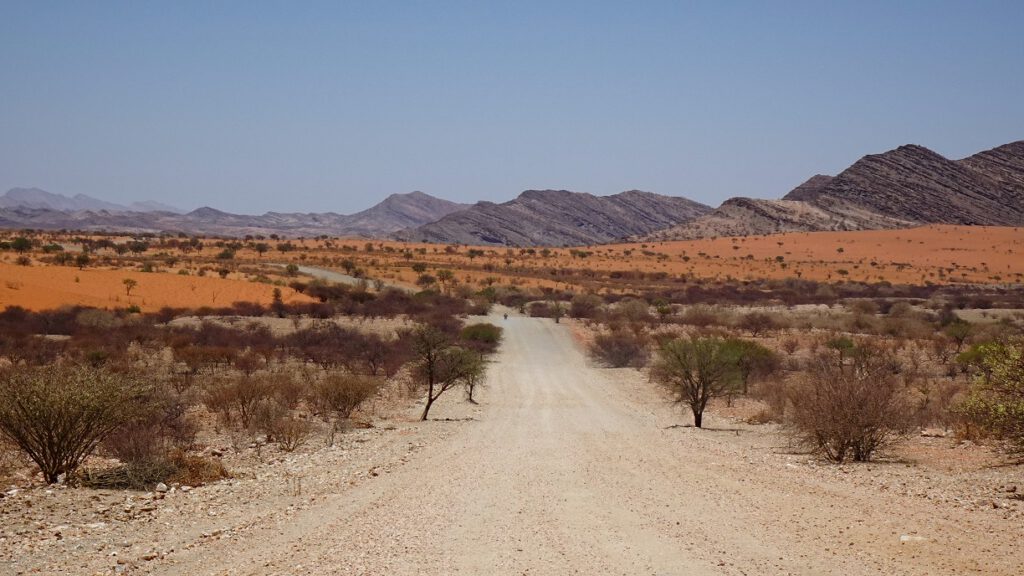 Brandberg - Damaraland - Kaokoland - Etosha - Spitzkoppe - Gamsberg Pass - Solitaire and much more.
Discover Namibia on a "classic" roundtrip with your own motorbike
Start and finish: Walvis Bay Namibia
Period: 12/28/2022 – 01/25/2023
Difficulty level: S2-S3 (details)
Accommodation: Hotel/guest house, lots of camping
Fahrkilometer ca. 5.000 km,  davon ca. 4.000 km Piste
Price driver: €4,889
Price passenger: €4,189
Getting to Walvis Bay
Arrival, getting to know each other and dinner
1. Tag: Swakopmund
Unloading and flotation of the motorcycles
First sand exercises and maybe a cake in Swakopmund?
Day 2: Elephant Rock
Cape Cross, on slopes or off-road in the direction of Brandberg
Day 3 Brandberg
A big lap around the Brandberg or sightseeing
Day 4: Palmwag
Track or off-road to Palmwag, optional: visit Twyfelfontein
Day 5: Ganamub
Rest at Sesfontein wild camp in a tributary of the Hoanib
Day 6: Purros
On the slopes or in the Hoanib to Purros
7th +8th Day: Marble Camp
Via Orupembe or off-road to Marble Camp
Optional Marienfluss Valley and Rooidrom Pass
Day 9: Opuwo
demanding route to Opuwo
Day 10: Epupa Falls
On slope to Kunene, bath in Epupa Falls
Day 11 Kunene
Along the Kunene, rest at Kunene River Lodge, camp by the river
Day 12: Depart south
To Ruacana and then south (course still open)
Day 13: Etosha
Over various slopes and through farmland to Etosha
14. Tag: Pause oder Safari
Etosha Safari or relax at Safari Camp
Day 15 Erongo
on dirt road and tar
Day 16: Spitzkoppe
Bush hike with San ("Bushman") possible
Day 17 Bush Camp
to the BushCamp on the edge of the Namib Desert
Day 18: Namib Naukluft
Slopes on the edge of the Namib Naukluft Park
Day 19: Tsauchab River
over various passes to Solitaire
Day 20: Helmeringhausen
flat/fast slopes to Hotel H.
21.+22. Tag: Fish River
Round trip, visit to the Fish River Canyon
Relaxation at Canyon Roadhouse
Day 23: Outbound or out
even more slopes or desert horse camp
Day 24: Off/Lüderitz
free day or visit/trip to Kolmanskop/Lüderitz
25th + 26th Tag: Sesriem
free day or visit/trip to Kolmanskop/Lüderitz
Visit Dead & Sossusvlei
Day 27: Swakopmund
back to Swakopmund, farewell dinner
Day 28: Walvis Bay
Loading of the motorcycles, end of the tour, departure
Overview map of the tour​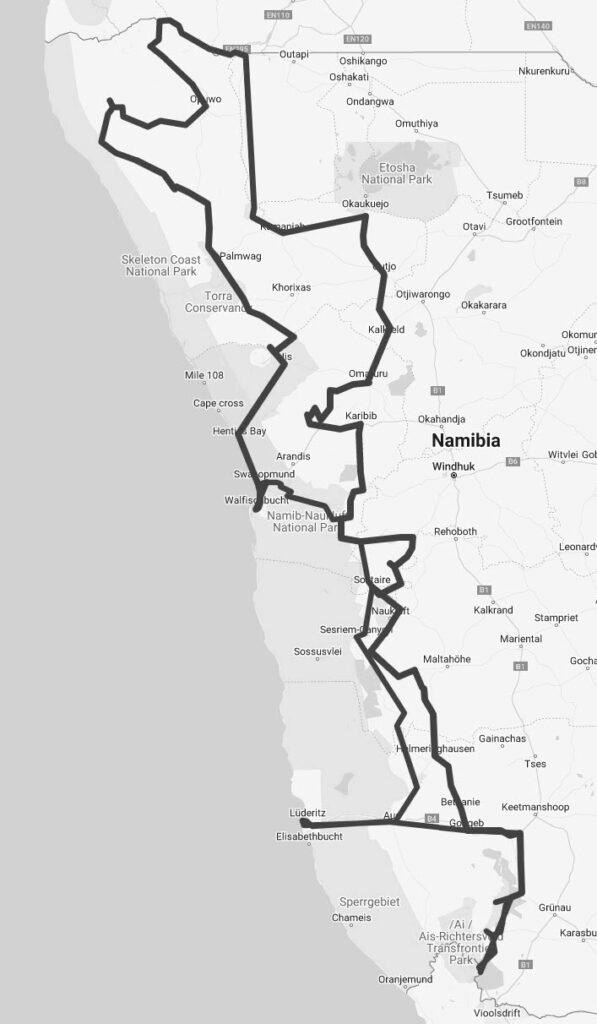 What makes our tours special?
In Sachen Konzept stand die Explo-Tours GmbH Pate, die über viele Jahre Motorrad-Touren durchgeführt hat.
The focal points of the tried-and-tested concept include:
+ driving as freely as possible
+ with your own motorbike
+ on an escorted tour with support vehicle
Good service and driving freedom
Driving in a train (single file) only in the city and if necessary.
Daily briefing (mandatory), evening meeting
like-minded drivers form groups
Loading about 6-8 weeks before departure
First meeting with tour information and getting to know the group with many opportunities for exchange
Clarification of many questions about the tour
The "mothership" transports the camping equipment, spare parts, tools, food/catering, water, fuel
Telefon-, Funk- oder Satellitenverbindung (auch zur Organisation im Problemfall)
Die erfahrene Crew und das Begleitfahrzeug können in der Wüste dein Problem lösen oder gar dein Leben retten
maps
GPS data of the route with meeting points
durch GPS Routen mehr Sicherheit und gleichzeitig Freiheit ganze Gruppe!
small groups meet at agreed coordinates
Support vehicle for luggage, equipment, etc.
Container transport of the motorcycles including basic transport insurance
– please check and increase if necessary; more info see tour information
German and English speaking tour guide
Übernachtungen in Hotel/Guesthouse nur zu Beginn und am Ende der Tour (kein Anspruch auf Einzelzimmer!)
Abendessen aus der Bordküche
Campsite fees, including outdoor camps
Provision of tools, fuel and water canisters
Detailed tour information for travel preparation
Map material and GPS maps and routes for Garmin
mostly daily briefing with route information and suggestions
the motorcycle
– Light, reliable(!) single cylinders up to 200kg strongly recommended (the lighter, the easier for you); 300 km range required
– large machines, boxers etc. on request
Enduro protective clothing (e.g. helmet, jacket, armor, knee pads, boots, gloves, etc.)
insurance and flights
Surcharges for single rooms in hotels/guesthouses/lodges and additional overnight stays
Gasoline for refueling the motorcycles
Park entrance fees, costs for safaris, balloon rides, etc.
Alcoholic beverages and individual expenses for souvenirs, food etc.
large, very heavy luggage, spare parts only on request (even the truck does not have an infinite amount of space, so please agree who will take what with you!)
Adequate fitness
good health and mental condition
Ausreichendes Fahrkönnen (Schwierigkeit S2-S3, Offroad selektiv bis S4)
Respectful behavior towards country, people and nature
Toleranz gegenüber möglichen Überraschungen auf unseren Abenteuerreisen (z.B. bei Verzögerungen durch Pannen)
see tour book for more information
Tent, sleeping bag and mat
Other camping gear (pegs, flashlight, etc.)
Photo/video equipment (including films, memory cards, etc.)
Toiletries, sun protection (hat, cap, sunscreen etc.)
GPS device (e.g. Garmin) strongly recommended (at least for the "navigators" among you; you will receive GPS maps, coordinates and tracks from us before the tour)
(GPS Karten, Koordinaten und Tracks bekommt ihr vor der Tour von uns)
Maps of Namibia (e.g. Reise Know-How, Tracks4Africa)
see tour book for more information